Vision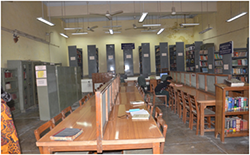 To be an academic resource-centre for facilitating the access, comprehension and construction of knowledge in teacher-education.
Mission
To work for availability, support and development of knowledge in the field of teacher education.
To facilitate student learning and research both through the conventional and techno-savvy ways.
To serve the academic and professional needs of the faculty by making available the needed resources.
To offer an environment that fulfills the academic and professional needs of diverse categories of users.
To support the College in translating its vision into reality.
Library Resources
The Library holds a central position in Maharshi Valmiki College of Education. It delivers standard library and information services to meet the needs of both the faculty and the students. It provides academic ambience to the college for fostering the growth of new ideas and research as the needed backdrop for preparing good teachers.
The Library has an excellent collection of books and non-book material in Philosophy of Education, Educational Psychology, History of Education, Pedagogy coursesbesides having a good collection of documents, reports and reading material on host of other areas.There is a separate collection of Reference Books, Pamphlets, and Bound volumes of Journals, Audio Cassettes, Compact Discs and Braille books. The library also has a good collection of Hindi medium books for students choosing Hindi as their medium of instruction, besides having the same for Pedagogy of Punjabi & Urdu.
Facilities for Visually Impaired
Being a welcoming place for visually impaired students, it provides the resources and services to the visually impaired students in effective ways. Library provides access of reading material to these learners through audio, Braille and other downloadable ways. A separate enclosure with a dedicated computer offers a range of additional reading materials and services to these learners. A standard computer loaded with desired software has been configured to suit their requirement. The visually impaired students are free to access the system on their own and can also seek the help of the library staff who liaises with the faculty members as and when needed.The library also inspires the student volunteers to prepare audio files/books every year for the visually impaired students that through their participation enriches the library resources continually for the visually impaired learners.