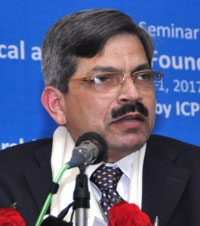 Principal's Message
A warm welcome to you to Maharshi Valmiki College of Education! It is heartening to note that you have decided to become teachers. It's a challenge, greater than what you may have visualized otherwise. Congratulations to you for deciding to become teachers.
Teachers play an unparalleled role in the society. Teachers visualize, conceptualize and contextualize ideas. Teachers create human space conducive for cradling ideas. Teachers facilitate not only the transmission of ideas but are instrumental in the spurt of novel ideas. Teachers catalyze comprehension, inspire application, and encourage innovation, discovery and creation. Teachers strike the human chord keeping the passionate quest for knowledge
alive– themselves and through their students.
This is a glimpse of the role you have decided to prepare yourself for! You shall get to know more when you evolve in furtherance of your choice.
Humble initiatives lay the foundations for great contributions. Being humble always, think, reflect, and make a beginning. Open yourself up to myriad ways of thinking; of learning and experiencing. Prepare yourselves for a meaningful life and live it to its fullness through sincerity, hard work and dedication.
Concentrate and look within. Set yourselves on an expedition into your deep self. Experience, explore and evolve. You'll discover the germ of creativity deep within! Ignite your thoughts, unleash your potential and grow into the role you have chosen yourself for.
The challenge is great –but equally refreshing and transforming. Approach it to its fullness through your impeccable commitment. Make a beginning and hesitate not. You can surely stand up to that. Believe me - you can indeed stand up to that!
May your stay in this College remain beautifully meaningful always! May it prove to be thetransformational period of your life! May it enable you to kindle lives; and to kindle many more lives!
May education be your way of life, henceforth and forever!
Best wishes,
15 July 2018
Dr. Parmesh Kumar Sharma
Principal (Officiating)